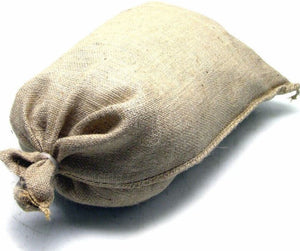 Multi purpose sandbag packed in a hessian sack and stitched closed. Take the hassle out of bagging sand yourself. These sandbags are suitable for a multitude of uses including but not limited to:

Projects requiring organic material
Projects requiring the bag itself to breakdown quickly as it is made from natural sources

The sandbag itself is made from hessian or sometimes known as jute. Think potato sack and that is the material. Bags can be requested to be wire tied closed instead of sewn shut if preferred.

There are 50 sandbags stacked per pallet. Full pallets are available ex Auckland, Wellington, and Hamilton.  Pricing is 'per bag', not pallet load.

The approximate bag dimension of the sandbag once laying down and filled are 300mm (width) x 450mm (length) x 100mm (high, or profile).

Can also be filled with other products (not just sand) on request.