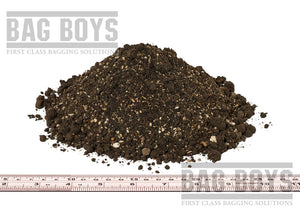 Introducing our premium Rain Garden Mix, a carefully crafted blend designed to efficiently absorb and slowly release water, making it ideal for rain gardens and stormwater management. With our product, you can create beautiful and functional rain gardens that effectively mitigate runoff while promoting healthy plant growth.

Our Rain Garden Mix is supplied in convenient, easy-to-use bulk bags, allowing for effortless transportation and placement. Whether your project is large or small, our bulk bags can be craned into almost any location, ensuring a seamless installation process.

What sets our Rain Garden Mix apart is its unique composition. It combines high-quality sandy loam topsoil and compost, creating an optimal blend for water absorption and retention. This enables efficient drainage during heavy rainfall while ensuring a slow release of water to nourish your plants over time.

By choosing our Rain Garden Mix, you're not only creating visually stunning rain gardens but also actively contributing to water management and environmental sustainability. Our product aligns with the specifications recommended by the Auckland Council, ensuring compliance with their stormwater management guidelines.

Can be packed into carriable bags on request - for example 30 or 40 litre bags. Bespoke mixes also available. Please contact us for quotes on commercial quantities over 5m3 (cubic metres). Email tradesales@bagboys.co.nz

Transform your outdoor space into a thriving rain garden that not only enhances the beauty of your surroundings but also helps protect the environment. Order our Rain Garden Mix today and bring your sustainable landscaping vision to life.

For more information on Auckland Council's rain garden construction guide, please refer to their official resource [here](https://www.aucklandcouncil.govt.nz/environment/looking-after-aucklands-water/stormwater/docsconstructionguides/rain-gardens-construction-guide.pdf).